JianMin Luo,

College Board Endorsed Consultant for AP Chinese Language & Culture Online Event 3
JianMin Luo has been teaching for over twenty-six years including more than ten years of AP Chinese. She teaches at Chadwick School in California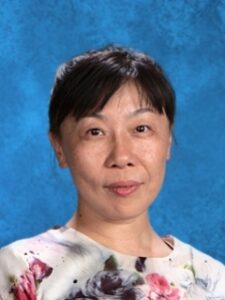 and One Schoolhouse online in Washington DC. She serves as the moderator of the AP Chinese Teacher Community, an AP reader, and an AP workshop consultant for the College Board.
Possessing extensive experience in curriculum and Instruction, she has been working on a wide range of College Board projects, including developing the AP Chinese Course and Exam Description (CED) and the AP Classroom platform, creating AP Daily videos, designing instructional materials for AP Chinese Workshops, as well as teaching AP Review Lessons (2020) and AP Daily Live Review (2021, 2022). She also worked as the SME for Florida Virtual School, the SME Chair of Pearson Chinese Online project for Words and Numbers, the academic principal and curriculum localization consultant for EIC, the course developer for One Schoolhouse, the editor-in-chief for Magaworld, and the co-author of many other texts.
In addition, she is the book author of "5 Steps to a 5: AP Chinese Language and Culture"(2014, 2017, 2020, McGraw Hill).  Her new adventure is to serve as the academic principal in the Chadwick China program this year.
Here I am, my fellow teachers. 我们一起加油,搞定AP!
Course Description for AP Chinese Language & Culture 
Welcome to our AP Chinese Group!
Whether you are new to AP or a veteran teacher, this workshop is designed for us to acquire the techniques to understand, plan, teach, and refine the AP curriculum diagnostically, effectively, and efficiently. You will work with a group of like-minded and talented peers to enjoy an exciting and rewarding journey.
Develop deeper insight into utilizing updated AP resources, including CED, AP Classroom, curricular requirements, instructional reports, etc.
Examine dynamic pedagogy frameworks and instructional models that are successfully implemented and well-tested for AP Chinese teaching.
Illustrate sequential strategies to build a learner-driven community that enhances student belonging and optimizes learning outcomes.
Gain hands-on experience assessing FRQs with clarified scoring guidelines and tailored formative and summative assessments.
Explore best practices to cultivate transferable skills in the areas where individual students need additional focus.
We will accomplish the workshop with our personalized curriculum and well-prepared strategies for our new AP adventure. We will continue to digest the abundant resources and collaborate with others in the upcoming years.
教无定法,贵在得法。
Let's sharpen our teaching and shine!