2023 Online WaltonAPSI – Choose your Event and Session!
CONTENT SESSIONS:
CAPSTONE SESSIONS:                           
CAPSTONE* APSI

IN-PERSON

at WALTON HIGH SCHOOL 
* = CAPSTONE REGISTRATION NOW OPEN! Click on the date above and go straight to the College Board's Registration and Information site!
Why AP Summer Institutes?
AP Summer Institutes offer the most thorough professional learning available for AP educators.  During an APSI, you will: 
Explore each section of the course and exam description
Begin to develop a course plan by unit and topic
Examine formative and summative assessment items
Practice applying the scoring guidelines from the most recent AP Exam to samples of student work
Identify student strengths and weakness using data available through AP Classroom and Instructional Planning Reports
Explore ready-to-use strategies, instructional materials, and pedagogical tools pertinent to the content and skills required for success in your AP course
You'll explore these AP resources in-depth: Unit Guides | Topic Questions | Personal Progress Checks | the AP Question Bank | Instructional Planning Reports | Syllabus Development Guides |  Sample Syllabi | the AP Community 
Tuition & Fees
Early Bird Registration Tuition: $650.00 4-Day AP Summer Institute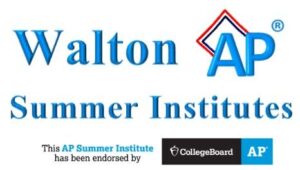 Early Bird registration fee applies to all registrations received 

and Paid or PO on file

  through February 28, 2023
General Registration Tuition: $775.00 4-Day AP Summer Institute 
General registration fee applies to all registrations received March 1, 2023 through June 16, 2023.

Registrations may be made for all sessions through June 16, 2023

College Board is offering three competitive scholarship programs, listed below.

Teachers at your school may meet the criteria for at least one of these opportunities. Visit the APSI Scholarships homepage to learn more about each and to apply.

AP Fellows: Provides scholarships of up to $1,000 to AP teachers at schools serving underrepresented and/or low-income students.

AP Rural Fellows: Provides scholarships of up to $1,500 to AP teachers at rural schools serving low-income students.

AP Capstone™: Provides scholarships covering tuition for AP Capstone professional development to AP Capstone teachers at schools meeting specific criteria.
Why should I choose this APSI when there are so many others to choose from? 
For the past 16 years the WaltonAPSI has consistently provided teachers with excellent professional learning opportunities as the ONLY thing we do. See our "About Us" page to find out more about this AP Summer Institutes site. The two directors, Christina Cronic and Dr. Hester Vasconcelos, are veteran AP teachers who demonstrate passion for teaching and learning. AP teachers are at the heart of all we do!
We search the country for the very best consultants.

We review their experiences, preparation and involvement in AP leadership at the national level.

We review their training and their on-going professional learning and role at the AP Readings.

We also consider comments shared by attendees at other APSIs and workshops.

We listen to the requests of teachers in order to prepare an agenda that meets the needs of teachers and their students, schools and their programs.

For 12 years in-person and now for the fourth year online we work to ensure this is the very best professional learning experience available.

While many schools or districts are restricted as to travel, per diem and housing funds the Online WaltonAPSI provides proven excellence to meet the varied needs of teachers, those with experience and those who are just starting.

As APSI Directors, we are here year-round. 

 We remain attentive and responsive to your needs long after the APSI sessions are concluded. Just contact us. We're here.
The WaltonAPSI is directed by AP teachers for AP teachers.
Lake Oconee Academy

is partnering with the 2023 WaltonAPSI to

provide access to resources and sessions using Canvas as the LMS and Enterprise level Zoom operated by Lake Oconee Academy through NGE Consulting.
The Walton APSI has it origins at Walton High School  in Marietta, GA. which served as the home base for in-person AP Summer Institutes. Since 2020 the Walton APSI has continued to provide virtual access to excellent professional learning for  Advanced Placement teachers.