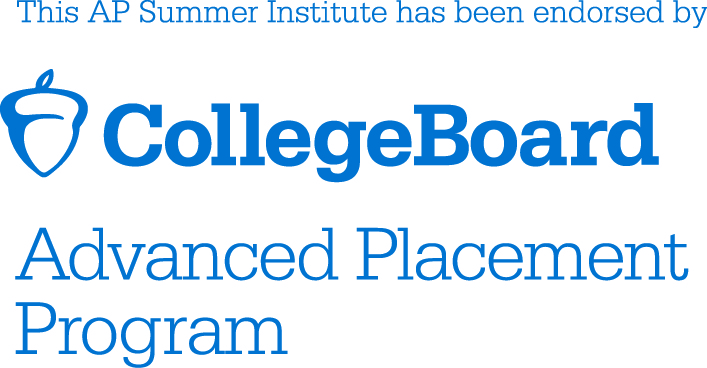 This website contains information about sessions, presenters, delivery model, and times. Enjoy looking around and, if we can help you with anything regarding your AP®professional development, contact us at  waltonapsi@gmail.com. 
Updated information regarding the Walton APSI for June, 2020: In keeping with the models to protect the general public, attendees, consultants and staff, the 2020 Walton APSI is currently working with the College Board to offer the 2020 sessions in a virtual environment rather than a face-to-face model. Registrations are open and we will update this page with details as they become clear. There will be a slight modification in the price charged, and refunds, if applicable, will be processed in a very timely manner.
Please email us if you have specific questions or concerns.
The College Board encourages AP teachers to take advantage of the professional development offered by APSI. Based on survey data, teachers across the country have found AP professional development to be extremely valuable.
Teachers at the 2020 WaltonAPSI are offered breakfast and lunch each day with coffee, tea, and water.
There are two snack breaks daily, one mid-morning and one mid-afternoon. In addition, there are numerous vending machines throughout the building for sodas and snacks.
Registrants receive access to materials and file storage, 2020 AP Reading materials for the session, instruction by a College Board endorsed consultant, and a College Board certificate upon successful completion of the 30 hours of instruction.
Bring your own laptops or tablets to use throughout the APSI. Textbook companies have been invited to attend and may offer sample texts to participants.
The WaltonAPSI does not provide content-specific texts to registrants. The consultants and the APSI will contact publishers of AP texts and materials. These publishers often provide access or sample copies to teachers at APSI. These texts will be available (when provided by publishers) during the APSI sessions.
You will be directed to the official College Board registration page where you will be able to register and pay for the session you choose.
You will be redirected to the official College Board AP Capstone registration site for the 2020 Walton APSI.
You will be redirected to the 2020 Walton APSI page. One of the sessions displayed there includes this special AP Coordinator session. Welcome!
Registration Information
There are numerous endorsed APSI sites around the country including the Walton APSI. Use the College Board AP Professional Development Calendar to find specific sessions and locations of all endorsed AP Summer Institutes. AP Summer Institute fees vary by host institution. All attendees must pay the host institution at the time of registration. The College Board offers a limited number of AP Summer Institute scholarships. Early registration will begin in December, 2019. Registrations may be made for all sessions without late fees up to June 1, 2020.
APSI registrations are only confirmed once payment has been received. All Payments are made to: Itinera Docentia, LLC, 4880 Lower Roswell Road, Suite 165, #215, Marietta, GA 30068
Need more information about your session

? Click on the

AP Summer Institutes Sessions 2020

that you want to explore from the list below. Once there, you'll find detailed information about each session, consultant, and schedule.
2020 APSI Sessions
AP Capstone Sessions
Teachers who do attend an AP Summer Institute in 2020 should be able to: Understand the Course: The course framework defines the scope of the course and specifies what students must know and do to be successful on the AP Exam. Plan the Course: Sequencing, pacing, and scaffolding are essential for building students' understanding and their ability to transfer and apply knowledge and skills. Teach the Course: Effective instructional strategies help students to develop a mastery of course content and skills over time. Assess Student Progress and Understanding: Learning requires time, practice, and regular feedback.
As an endorsed AP Summer Institute of the College Board, all registrations are handled through each teacher's College Board professional account.
From the College Board: AP Summer Institutes offer the most intensive professional development available for AP educators. Summer Institute attendees engage in 30 or more hours of content-rich training designed to strengthen how they teach their AP courses.
College Board-Endorsed consultants will guide attendees through resources such as course outlines; content-specific handouts; and student samples, scoring guidelines, and commentary from the most recent AP Exams. AP Summer Institutes are helpful for both new and experienced teachers and may meet your state requirements for professional development.
Dates for 2020 APSI: Monday June 22 – Thursday June 25, 2020
Times: 8:00 AM to 4:00 PM
Dates for AP Capstone: Monday June 22 – Friday June 26, 2020
Times for AP Capstone:
8:00 AM – 4:00 PM Monday through Thursday;
Friday 8:00 AM to 12:00 PM.
The Walton APSI is directed by AP teachers for AP teachers.