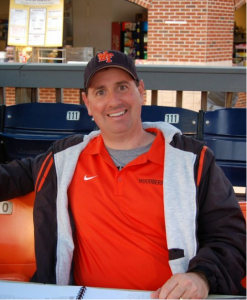 Greg Jacobs
College Board endorsed consultant for AP Physics
This session is offered in Event 2: June 18-21 Tuesday through Friday
Meet your Consultant for AP Physics 1 and read the APSI Online Course Description for AP Physics 1!
Greg Jacobs teaches at Woodberry Forest School, a college preparatory boarding school for boys. Mr. Jacobs runs Woodberry Forest's award-winning Advanced Placement Physics program, as well as their 9th grade conceptual physics program.   Greg's academic history includes an undergraduate physics degree from Haverford College, and a masters degree in mechanical engineering from Northwestern University. He has worked for the College Board as an AP Physics Reader since 1999; he has been a Table Leader since 2008; he has run one-day teacher training workshops since 2002; and he has run week-long AP summer institutes all over the country since 2003.
Greg is the president of the USAYPT (www.usaypt.org), a non-profit organization promoting physics research at the high school level. He also served as the USAYPT tournament director, in charge of organizing and directing the annual US Invitational Young Physicist Tournament, for three years.
Major teaching awards Greg has earned include:
· Virginia AP Teacher of the Year from the Siemens Foundation
· George O'Connor Prize for outstanding teaching at Woodberry Forest
· Lipe Family Mastership at Woodberry Forest
· Physics RISE award from the Virginia Association of Science Teachers
Greg is the author of the McGraw-Hill 5 Steps to a 5: AP Physics 1 exam prep book. Additionally, he writes the Jacobs Physics blog, providing ideas and advice about physics teaching. In his spare time, Greg broadcasts soccer, baseball, basketball, and football over internet audio. He has written the football and baseball books in the Everything Kids series.
AP Physics 1 APSI Course Description
This methodology course surveys the basic structure, content, and skill development necessary for teaching an Advanced Placement Physics 1 course.
When designing AP Physics 1, the College Board, in collaboration with the National Science Foundation, did the following:
• limited content breadth to promote conceptual understanding;
• provided an explicit, comprehensive curriculum framework;
• directed that at least one-quarter of contact time be devoted to hands-on student laboratory work, leading to the development of student inquiry skills;
• articulated clear learning objectives;
• formatted the exam to give students appropriate time to process a heavily-verbal exam
 
AP Physics Summer Institute:  Course Summary
AP Physics 1 is intended to proxy "best practices" university physics courses. It cannot be compared to most college introductory physics classes, and certainly not to most high school "honors" or "college prep" courses. The primary difference is the incessant demand for verbal explanations. A student who is skilled at "plugging and chugging" mathematics can easily pass a state standards exam, is likely getting an A or B in a typical introductory college or college-equivalent course.  Such a student cannot succeed in AP Physics 1.
Questions on the AP Physics 1 exam probe a student's understanding of the entire scientific process.  In Physics 1 you don't just predict an answer, but you must explain the reasoning behind the prediction, and discuss how that prediction would change as the conditions of the problem change.  And you don't stop there:  you describe how you would set up an experiment to verify that prediction, how to analyze the data collected from such an experiment, how that experiment might turn out.  In other words, our students are expected to acquire and demonstrate the same skills that professional physicists use in their work.
In our AP Summer Institute, we will discuss in detail the content and structure of the AP Physics 1 exam. More importantly, we will talk about how to teach students the physics skills that will be tested on this exam, and which are useful at all levels of physics. We'll be sharing teaching ideas within the group, especially including creative laboratory activities. I encourage attendance from those who have several years under their belts – their input will be especially useful to new AP Physics 1 teachers, and to other somewhat-veterans. We want to hear specifics about what worked and what didn't. 
The overarching goal of the week will be to communicate and share physics teaching ideas that, while focused on AP Physics 1, can be applied to any level of physics, including conceptual, college prep, AP Physics 1/2, and AP Physics C. In particular, we will discuss:
Quantitative use of demonstrations… whenever students can be asked to predict the result of a demonstration, that demonstration has served a purpose beyond simply attention-grabbing.
Laboratory activities in the style of AP lab questions… we will perform a number of these, in several different styles.  We will discuss how to create activities that are not only pedagogically valuable, but which also directly prepare the students for the types of exam questions they will face.
In- and out-of-class assignments and activities that bring students beyond focusing on an abstract answer. 

We'll talk about specific ideas that will help get students writing, communicating, and experimenting.

We will discuss available resources, including those provided by the College Board. We will discuss the fall AP registration process; we will share how teachers have used / intend to use AP Classroom and the AP Physics 1 "workbook" written by the College Board's Amy Johnson – this is a tremendous resource for all, but especially for new or out-of-discipline teachers.
But we'll also share my favorite and your favorite free physics teaching sites, like Phet simulations, the Physics Aviary, and The Physics Classroom.
I'll also give teachers insight into the redesigned course and exam elements for 2025. The new exams will be three hours long with 50 multiple choice and 4 free response questions. Fluid mechanics will be an added topic. We will discuss demonstrations and laboratory activities for this new unit.
Also, check out Greg's Blog here: https://jacobsphysics.blogspot.com/
And, have a look at Greg Nacho Man Jacobs: