Meet the College Board endorsed Consultant for AP US Government & Politics, Hunter Clark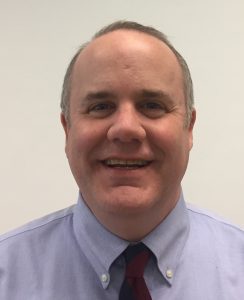 Hunter Clark began teaching in 1995. Helping students think critically about our political system and developing a sense of civic engagement remain his primary goals as an educator.
Hunter currently teaches AP Government and AP Psychology at Clover Hill High School in Chesterfield County, Virginia. At the AP U.S. Government reading, he has served as a reader from 2001-2004 and a table leader since 2005. He participated in the AP Government redesigned exam pilot reading in 2017 and 2018 and served as an early table leader (to aid question leaders in the sample selection) at the 2019 reading. Hunter has conducted AP summer institutes for U.S. Government and Politics at locations such as Northwestern University, the College of William and Mary and Fairfax County Public Schools. He facilitated three online APSIs in the summer of 2020.
He achieved National Board Certification in 2013. He participated in numerous summer teacher institutes such as programs conducted by the National Endowment for the Humanities, the Virginia Historical Society, and a colloquium on James Madison and the Constitution at Montpelier. Hunter has served as his school's debate coach since 2000. Debaters he has coached have won a state championship, advanced to NCFL and NSDA Nationals and qualified for the national Tournament of Champions.
Hunter lives with his wife Jackie, a fellow high school social studies teacher, and their two teenage children in Midlothian, VA.
APSI Session Description for WaltonAPSI Government & Politics: US
This workshop will provide teachers with the content knowledge and tools needed to effectively teach an AP Government class for high school students. In this workshop, we will focus on discussing and reviewing the structure of the redesigned course in AP US Government and Politics. We will discuss various pedagogical methods to teach the Big Ideas, Enduring Understandings, Learning Objectives, and Essential Knowledge for this course. Participants will gain a better understanding of how these concepts are utilized to build a cohesive course framework. We will also focus on the components of the redesigned exam. Particularly, we will cover in-depth the disciplinary practices: Source Analysis, SCOTUS Application, Data Analysis, Concept Application, and Argumentation. We will also review and discuss revisions for the multiple choice questions on the redesigned exam.
Instructional strategies and resources for teaching the five units that are outlined in the College Board CED (Course and Exam Description) will be covered in the workshop.

We will cover in-depth the disciplinary practices:

Ideas for assignments, activities, document analysis, Supreme Court case studies, and the civic project that can be implemented will be presented.

Participants will also be introduced to assessment strategies such as Personal Progress Checks (PPCs) and the use of CB designed test banks.

In addition, participants will practice scoring free response questions from previous AP exams, gain assistance in creating a course audit and develop a pacing guide for the 2020-21 academic year.