AlexanderScheck,
College Board Endorsed Consultant for AP Computer Science Principles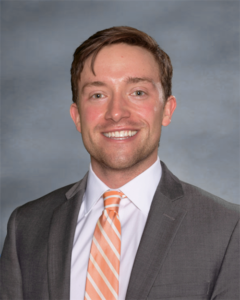 Alex Schenk serves as a lead STEM teacher at Collegiate School of Medicine and Bioscience, a diverse magnet high school in the St. Louis Public School District.
As the founding teacher of the computer science program, Alex has overseen growth in computer science  classes from an initial group of 30 students in 2016 to over 110 students in 2022-2023. He has developed  an innovative three-year computer science sequence that includes both AP® Computer Science Principles and AP® Computer Science A. Alex has increased participation in STEM learning with a focus on equity and access.
Alex is a College Board® Consultant for AP® Computer Science Principles. He has served as an AP® Reader and a member of the standard setting committee for the course. As a member of the instructional design team, Alex contributed activities for the AP® Computer Science Principles Course and Exam Description published by the College Board in Fall 2020. In Fall 2019, he attended the AP® Computer Science Teacher Summit hosted at Facebook headquarters in Menlo Park, California.
In December 2020, his work with the AP Computer Science Principles course was covered by the Washington Post.
In addition to his role as a STEM teacher, Alex serves as the student council advisor and sponsor of the school's half-marathon training club. He also advises a cybersecurity team participating in the annual CyberUp CyberGames. In his free time, Alex enjoys being active, and loves to run, bike, and travel. He received his Bachelor of Arts degree in secondary education and mathematics from Saint Louis University and his Master of Arts in educational technology from Lindenwood University.
APSI COMPUTER SCIENCE PRINCIPLES COURSE DESCRIPTION:
This APSI workshop provides teachers with the tools they need to implement an effective AP® Computer Science Principles course. During this training, teachers will learn engaging activities aligned to the course framework that can be used immediately with students. The workshop will cover the requirements of the Create Performance Task in-depth, with strategies and tips from a facilitator who has served as an AP Reader. The Summer Institute agenda is supported by and mapped to the AP® CSP workshop handbook lessons and includes APSI requirements.
Topics will include:
● Create Performance Task and Scoring Guide
● Algorithms: Sequencing, Selection, and Iteration
● Abstraction (Procedural and Data)
● Best practices for teaching computer science
● Equity and access in recruitment and instruction
● Strategies for building classroom culture and promoting community
● Unplugged and collaborative activities for the CS classroom