Jamil Siddiqui has spent the last 25 years teaching mathematics at East Bridgewater Junior/Senior High School. Over the course of his career, Jamil has taught classes across the department; however, he specializes in teaching Advanced Placement Calculus. He believes that anyone is capable of succeeding if they are willing to work hard and give their best effort, and he encourages students with varying abilities to be successful in his class. He tells his students their thought process, their effort, and their ability to communicate their ideas are far more important than the final answers they are trying to find. Jamil firmly believes all students can be successful by working hard, improving, and not being afraid to try.
When speaking with Jamil, one can immediately sense his love for mathematics. His advice to teachers has been, "You have to love something. You love your subject, or you have to love your students." He can often be found after school and on weekends providing extra help to students who may be struggling. These experiences encouraged 15 of his former students to be mathematics teachers.
Outside of school, Jamil has worked closely with Mass Insight Education as a mathematics lead teacher since 2012, and has served as a College Board consultant for AP calculus since 2014. In 2019 he was selected as the Massachusetts State Teacher of the Year and The Presidential Award winner for Excellence in Mathematics and Science Teaching. Jamil received his bachelor's degree in biomedical engineering from Boston University and then earned master's degrees in teaching and pure mathematics, also from Boston University.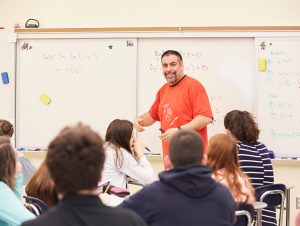 Twitter: @jamilsid312 https://www.linkedin.com/in/jamil-siddiqui-math-teacher
http://www.bu.edu/articles/2018/massachusetts-teacher-of-the-year-jamil-siddiqui/