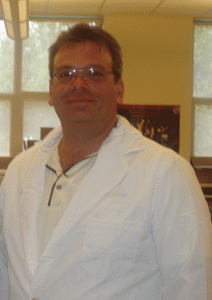 Mark Langella is currently an AP Chemistry instructor at Mahopac High School in New York and also an adjunct chemistry professor at Westchester Community College. He received a BA in Chemistry from Manhattan College, and a MA in Science Education from Lehman College. He is also a NYS certified chemistry and chemical technology instructor.
Mark Langella has over 30 years of experience teaching AP Chemistry and is a College Board AP Chemistry consultant since 1994, as well as, a College Board workshop coordinator.
He teaches AP chemistry to sophomores as a first year chemistry program. He initiated and established AP chemistry programs in three different high schools.
Mark Langella has been an AP chemistry consultant for over 23 years mentoring new AP Chemistry instructors and has worked for Industry as a consultant for educational programs since 1990. He is also author of Syllabus # 4 in AP College Board Handbook.
He is also the founder and director of the Putnam/Westchester Industry and Teacher Alliance and has been a coordinating board member of both the SUNY Purchase Alliance of Chemistry Educators (1990-2000), as well as, the Teaching Center at SUNY Purchase (1999-2002).
He is currently the STANY's Westchester/ Bronx Section science area representative.
He is presently an adjunct education professor at Manhattanville College.
He is also the author of numerous published experimental kits and AP chemistry labs for FLINN Scientific.
APSI Course Description for AP Chemistry: This four-day summer AP® Chemistry institute is designed to meet the needs of both Beginning and Experienced AP Chemistry teachers. Course sequencing, pacing, testing & homework design, grading, lab selections, and AP test preparation will be covered in depth. This will allow both new and experienced AP Chemistry teachers to set up and conduct a quality course with confidence of increased student success. Particular emphasis will be placed on Inquiry Lab activities that can fit into a 40 plus minute class period, as well as, how to successfully modify the AP curriculum for more challenging academic populations. The new teaching resources that have been released by the College Board for the 2019-2020 will be examined.
This methodology course surveys the basic structure and content necessary for teaching an Advanced Placement Chemistry course. Chemistry topics such as equilibrium, kinetics, and "how to" problem solving are presented. Class size, student selection, textbooks and labs are also addressed. Special attention is paid to teaching strategies, the AP exam and its grading. Some lab experiments suitable for AP classes are incorporated into the course. Participants receive examples of past AP exams, appropriate tests, worksheets and lab experiments.
This institute will provide an opportunity for high school AP Chemistry teachers to observe significant teaching demonstrations, perform experimental procedures using computer interfaced equipment, and to review with presenters a variety of topics covered in AP Chemistry. Teachers will have the opportunity to discuss the methodology of converting typical cookbook labs into a guided inquiry labs.
Participants will have the opportunity to perform several lab exercises that align with the College Board redesign. Best practices will be discussed. For each of the labs AP published related Labs will be Provided and Reviewed. Information about the requirements for the AP Chemistry Course Audit will be shared.
Content for teaching will be provided for study in the evening.
All participants will have access for the workshop to Sequential Course Curriculum, Links to numerous Sequenced Online Applets, Lab Activities and Class Demonstrations Sequenced by Topic ,Links to numerous sequenced curriculum video clips, Class Notes and HW Samples, Various PowerPoint's, Overhead Notes, Handouts Organized by Topic ,Student Study Guidelines and Data Acquisition Software.
Required Topic 1 – Course and Exam Description (CED) (2 hours): Discuss each section of the CED and make connections to the Curricular Requirements
Required Topic 2 – Course Introduction (1 hour): Outline the instructional plan by Unit and Topic in an academic calendar
Required Topic 3 – AP Classroom (3 hours): Discuss examples of how AP Classroom can be utilized to develop each skill/practice using example student data provided by the College Board and develop lesson plans that reinforce topic and skill connections
Required Topic 4 – Assess and Reflect (1 hour): Practice interpreting data within the Instructional Planning Report to identify student strengths and weaknesses and reflect on implications for instruction
Required Topic 5 – Strategies and Pedagogical Tools (3 hours): Identify and explain various instructional strategies and tools, in addition to AP Classroom, that teachers can incorporate in their lesson plans to teach the content and skills in the Course and Exam Description